Mentor Development
For September, the challenges will center around the theme of Back to School. This week's challenge is to surprise your mentee with a little back to school love. Maybe, you go have lunch at school with your mentee (definitely ask them first if this is okay with them). How about instead of hanging out at 5:00 pm, you pick them up from school and take them to get their favorite ice cream flavor. Or, how about writing some happy, fun notes and asking your mentee's parent/caregiver to put them in his/her lunchbox each day. Another idea is to start a growth chart and plan to see how much your mentee grows throughout the year. Whatever it is, make sure to spoil your mentee a little bit and show them that back to school is FUN! As always, talk, question, listen, challenge and encourage your mentee!
Mentor Growth and Development Plan for September-November plan is here.
Race and Equity
The more you get to know someone and find out that you have a lot in common with them, the more likely it is that these commonalities can break down biases and form connections. Following are questions you can use to go deeper in conversations and learn what you have in common with your neighbors, co-workers and those you meet.
1.) Where did you grow up and what is most memorable about it?
2.) Who was your role model growing up? Who is your role model now?
3.) What about the world right now saddens, frustrates or angers you?
4.) Where would you like to travel to and why?
5.) What are some things you are grateful for?~Taken from https://lovehasnolabels.com/why-it-matters
Corn Maze Fun
We would love for you, your families, your mentees, and their families to join us for some Corn Maze fun! Join us at Treinen Farm on October 15th at 1pm. Intentional Mentoring will pay for the corn maze for anyone who shows up for the event.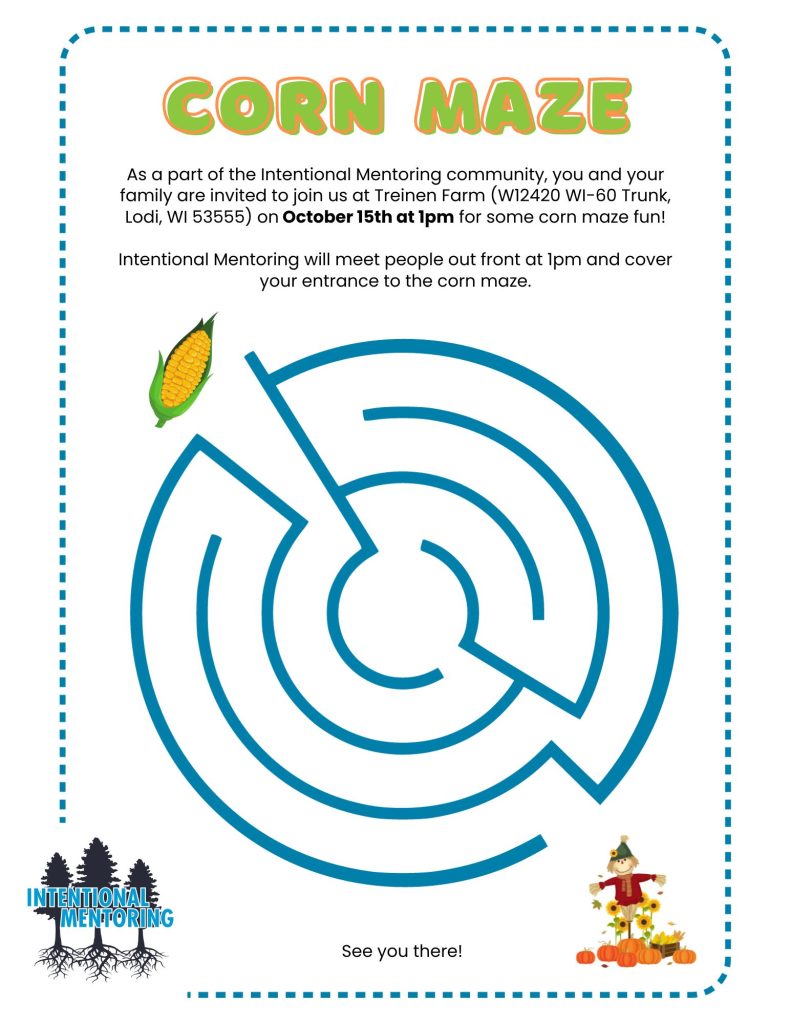 We love seeing photos of you and your mentee spending time together! Please share them with us via your coach or using the hashtag #intentionalmentoringmadison
Mentor Coaching Group Meeting Dates
VAL: Monday, October 30th 6:30 – 7:30pm  val@intentionalmentoringmadison.org
RYAN: Monday, October 2nd 5:30 – 6:30pm  ryan@intentionalmentoringmadison.org
If you have a change in personal information (phone/address/email) please respond to this email or notify your mentor coach ASAP.
All the best,
Intentional Mentoring